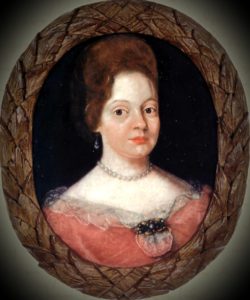 Catharina Regina von Greiffenberg (1633-1694) was an Austrian-born poet of the early modern period, one of the foremost German-speaking writers of her time. As a Protestant among Catholics she was socially isolated, but she was able to make connections with literary societies in Nürnberg, which eventually led to opportunities for publication of her work. When her father died, her uncle, Hans Rudolf von Greiffenberg, became her guardian. He ensured that she was well educated, and under his auspices a collection of her poetry came out in 1662. In 1664 Greiffenberg was pressured into marrying her uncle. In 1663 she and her mother had moved to Nürnberg, under pressure from the counter-reformation and invading Turks; she later returned to Austria with her husband, but moved permanently to Nürnberg after his death.
Greiffenberg's devotional sonnets blend technical skill with vivid imagery and intensity of feeling. Her first and best-known book, Geistliche Sonnette, Lieder und Gedichte (Spiritual Sonnets, Songs and Poems), published in 1662, contains 250 sonnets as well as many lyric poems. Her deeply spiritual poetry was noted and admired in the 17th century, but neglected when religious poetry fell out of favour. In recent decades, however, there has been a resurgence of interest in her work and scholars are seeking out, translating and writing about the poetry of Catharina Regina von Greiffenberg.
This web site got started when the three of us began translating a series of seven sonnets for Holy Week. The Holy Week of 2020 was unusually fraught and difficult because of the COVID-19 pandemic, and the work of translation became a life-line for us. We decided to continue with Greiffenberg's sonnets for Easter, Ascension, and beyond, as well as her other lyric poems. We—Joanne Epp, Sally Ito, and Sarah Klassen—are three poets from Winnipeg, Manitoba who collaborate in translating Greiffenberg's sonnets and songs in an effort to help revive a forgotten voice and to bring more of her poetry to English-speaking readers.